2022 Proposed Revisions
UPDATE: The Board adopted an interim proclamation plan on May 24, 2022 >
During public hearings on April 4, 5 and 6, 2022 the Board unanimously adopted two proposed Senate district revisions to the 2021 Proclamation Plan which will be the subject of public feedback and discussion at future meetings.
Anchorage Senate District K Options
The following two proposed Anchorage Senate maps – Option 2 and Option 3B – were unanimously adopted as proposed plans for public review and discussion during hearings on April 5 & 6, 2022.  Option #1, which was previously adopted for discussion, was removed from consideration by unanimous consent during a public hearing on April 6, 2022.

Anchorage Senate Districts – Option 2
Option 2 – Anchorage Bowl Detail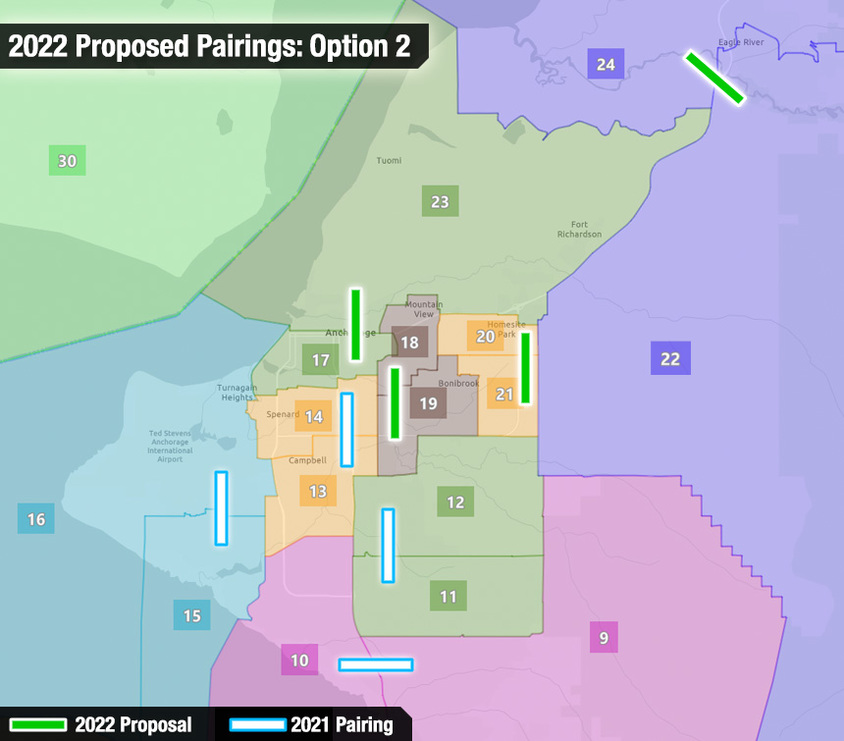 Click map to enlarge
Anchorage Senate Districts – Option 3B
Option 3B - Anchorage Bowl Detail


Click map to enlarge

Cantwell Revision
These graphics illustrate the original 2021 Cantwell assignment to District 36.  The second graphic illustrates the revisions to Districts 29, 30 and 36 adopted by unanimous consent of the Board during a public hearing on April 6, 2022.  This changes was made in response to the Alaska Supreme Court order of March 25, 2022.  Click map images to enlarge